Schiphol Plaza, which houses shops, bars and restaurants, was evacuated but not the parts of the airport behind the check-in area and security checks, airport spokeswoman Roos van der Ven said.
In a Tweet, the police said the man was "known to police in connection with previous violent incidents".
The circumstances surrounding the shooting are not yet clear and police have not revealed whether the incident was terror related.
Dutch police say they have shot and arrested a man who wielded a knife at Amsterdam's Schiphol Airport.
The knife-wielding man was shot by military police at Schipol Airport in Amsterdam.
The Marechaussee police service said the "situation is safe" and the suspect has been detained and removed from the scene.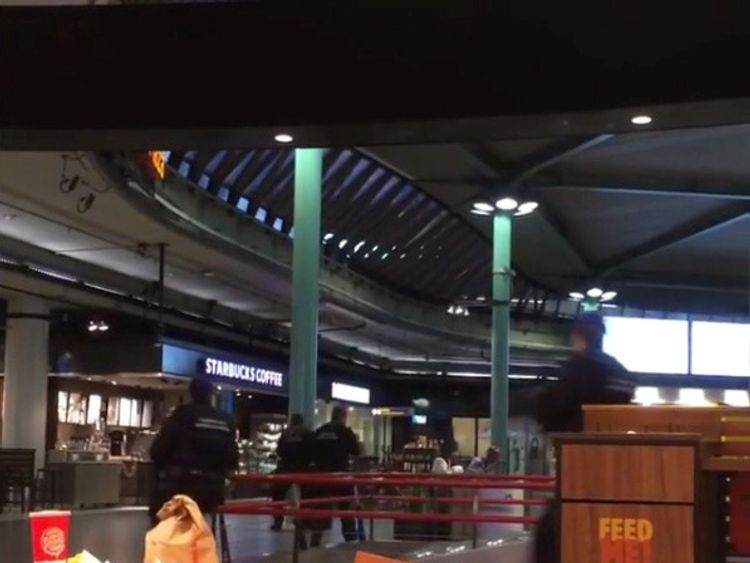 Image Police officers run through the airport after the shooting. Pic INSTAGRAM @aapopski
The shot man has reportedly been transferred to the hospital.
"He was injured and has been taken into custody", Verberkt added. There were no reports of other injuries.
"We. have many questions", Verberkt said. No details of his condition were released and a motive is unclear. Air traffic was not affected.
The airport and Schiphol Plaza are open to the public.
Schiphol is one of Europe's busiest airports and Friday is one of its busiest days of the week.
The threat forced a brief evacuation of parts of the airport, one of Europe's busiest.